Tonicella insignis

(Reeve, 1847)

Common name(s): White-lined chiton, Red chiton

Synonyms:

Tonicella submarmorea

Order Neoloricata

Suborder Chitonina

Family Lepidochitonidae

Tonicella insignis

--underwater photo
(Photo by: Aaron Baldwin)
Description:

This chiton has exposed plates, usually reddish, which have wavy white lines running transversely across them, especially on the anterior parts of plates 2-7. The girdle is smooth and brown and usually has dull green blotches. Length to 5 cm


How to Distinguish from Similar Species: Tonicella lineata also has colorful lines on its plates but the lines are dark, often blue and pink, and edged with white. The girdle of T. lineata usually has whitish, yellow, or orange blotches.

Geographical Range: Alaska to Oregon

Depth Range: Mostly subtidal to 52 m.

Habitat: Hard substrates such as rocks

Biology/Natural History: This chiton is not common in most places, but is said to be abundant subtidally in Hood Canal. Sometimes a large number of small individuals is found on isolated articles such as bottles. Predators include clingfish.
---
---
References:
Dichotomous Keys:


Kozloff 1987, 1996


General References:
O'Clair and O'Clair, 1998
Rice, 1973
White, 1976

Scientific Articles:
Type articles in this span

Web sites:

---
General Notes and Observations: Locations, abundances, unusual behaviors: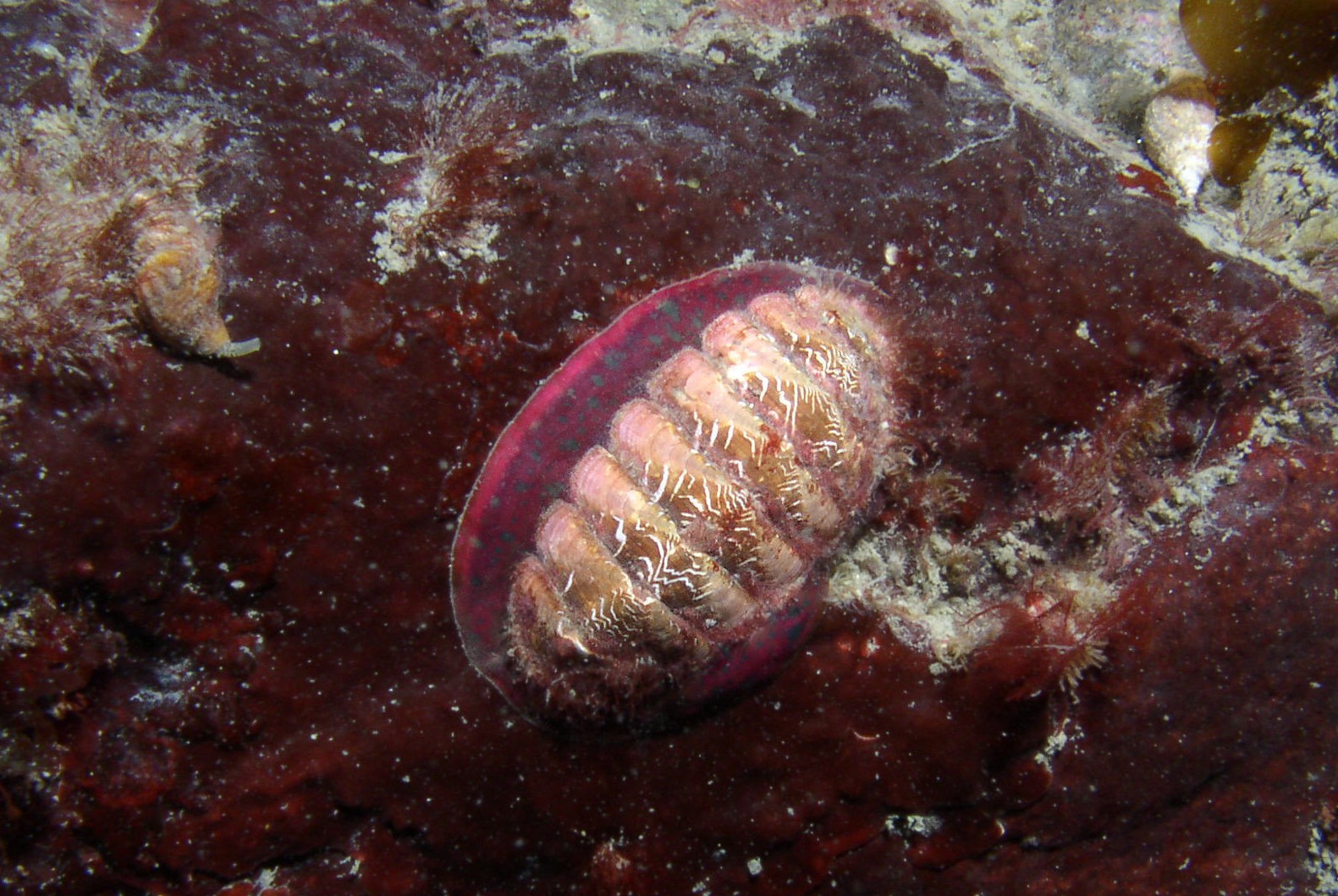 Tonicella insignis crawling on coralline algae. Photo by Kirt Onthank, August 2007
---



Authors and Editors of Page:


Dave Cowles (2007): Created original page
CSS coding for page developed by Jonathan Cowles (2007)