Dirona albolineata

Mac Farland in Cockerell & Eliot, 1905 (or Eliot, 1905)

Common name(s): White-lined Dirona, Frosted nudibranch, Alabaster nudibranch, Chalk-lined dirona

Synonyms:

Class Gastropoda

Family Dironidae

Dirona albolineata

from Coffin Rocks, depth about 12 m.
(Photo by: Kirt Onthank, summer 2007)
Description:

As with other members of suborder Arminacea, the anus is not on the midline of the dorsum but instead is on a conspicuous papilla on the posterior third of the right side of the dorsum. The rhinophores have no sheath and cannot be completely retracted. This species is translucent grayish-white, salmon, or light purple with bold white lines on some edges of the flattened cerata plus around the margin of its large frontal veil, down the rear dorsal surface of its foot, and between some of the cerata. There is also an opaque white line down the inner margin of the shaft of the rhinophores and across to the opposite rhinophore. Length usually to 4 or 5 cm but may range up to 18 cm.

How to Distinguish from Similar Species: The cerata on many Arminaceans such as this species often make them look a lot like Eolid nudibranchs, but they can be distinguished from Eolids because Arminaceans have the anus on a papilla on the rear third of the body (right side) while Eolids have it on the anterior third of the body (right side). Dirona aurantia has similar-shaped cerata but the overall color is orange, it has no white line on its frontal veil, on its tail, or between its cerata, and it has scattered white spots.

Geographical Range: Kachemak Bay, Alaska to San Diego, CA; Japan, East Russia

Depth Range: Intertidal to 37 m.

Habitat: Usually on rocks, occasionally on mud

Biology/Natural History: The cerata fall off easily. Feeds on small snails such as Margarites pupillus and Lacuna carinatus by cracking the shells with its jaws. Also feeds on sea anemones, hydroids, tunicates, and bryozoans (photo). Their egg mass contains about 350,000 eggs.

---
---
References:
Dichotomous Keys:


Flora and Fairbanks, 1966 (as

Dirona albalineata

)
Kozloff 1987, 1996
Smith and Carlton, 1975


General References:
Behrens, 1991
Brusca and Brusca, 1978
Harbo, 1999
Kozloff, 1993
McDonald and Nybakken, 1980
Morris et al., 1980
Niesen, 1997
Ricketts et al., 1985

Scientific Articles:


Web sites:

---
General Notes and Observations: Locations, abundances, unusual behaviors: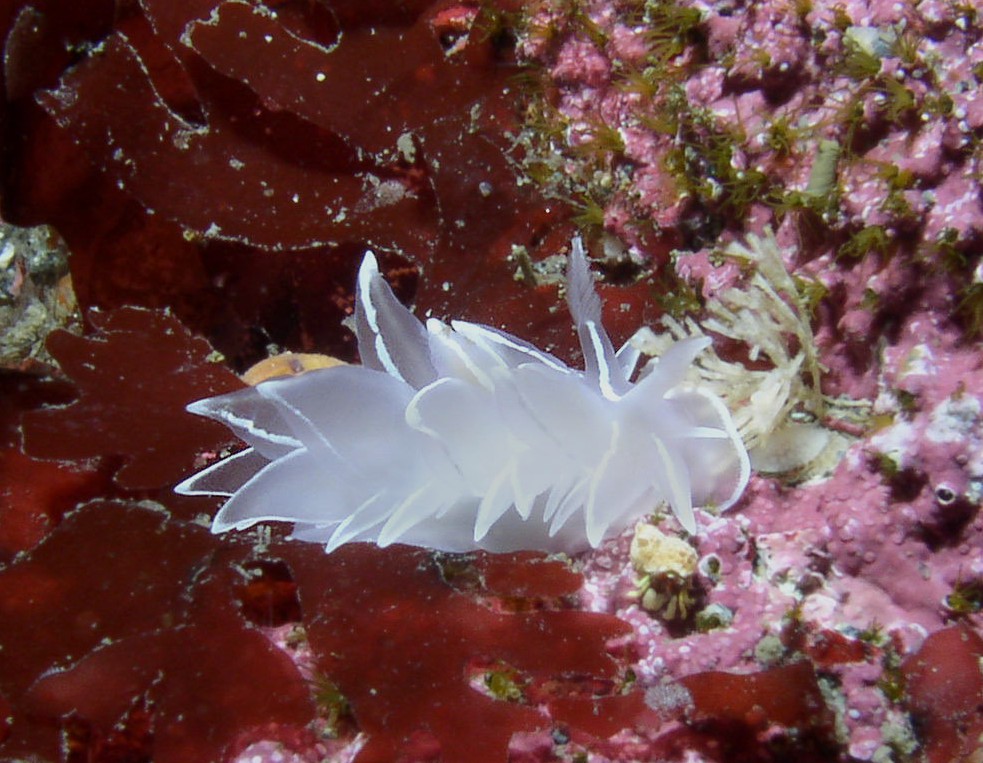 This individual is grazing on a bryozoan. Photo by Kirt Onthank, summer 2007


This nudibranch exists in several color variations. For example, the two nudibranchs below were found at a minus tide on Sares Head in late October, 2007. Although Kozloff's key says this species is not orange, these two individuals are marked just like

D. albolineata

and NOT like

D. aurantia

yet they have orange on them. Perhaps the orange comes from something they have been eating (note that one is orange mainly in the cerata in one individual) or could they be eggs? Photos by Dave Cowles, October 2007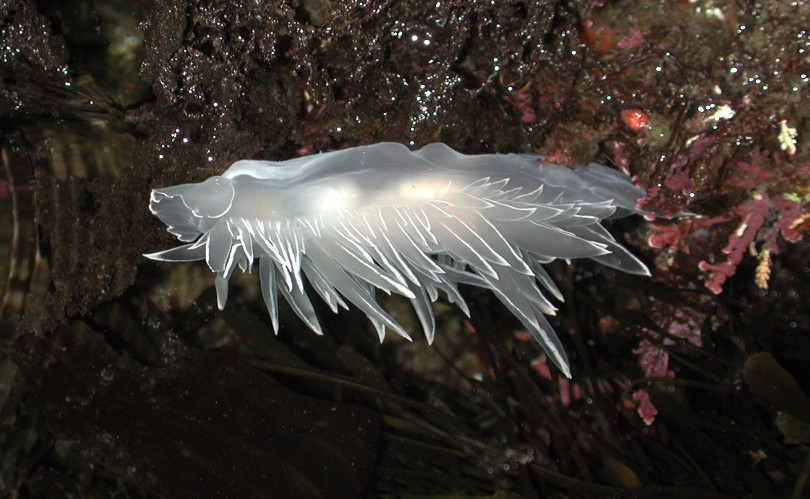 This individual is crawling along the edge of a tide pool at low tide, Cape Flattery. Photo by Dave Cowles, July 2008
---



Authors and Editors of Page:


Dave Cowles (2007): Created original page
CSS coding for page developed by Jonathan Cowles (2007)